Women in STEM Unconference Promotes Diverse Inventors, Mentors and Entrepreneurs
From left: Shane Reiser, Susan Koppy, Gabrielle Morlock and Stephanie Bermudez. Photo credit: Paul Tumarkin/Tech Launch Arizona
"Women belong HERE."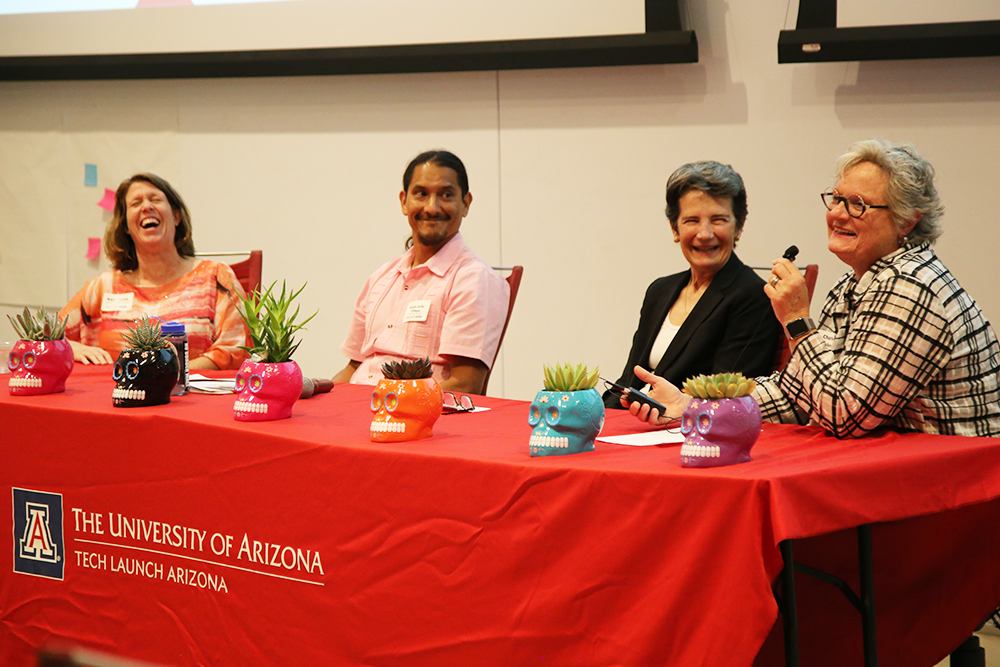 The panelists, from left to right: Kara Festa, Sergio Avila, Barb Campbell and Charlene Grabowski.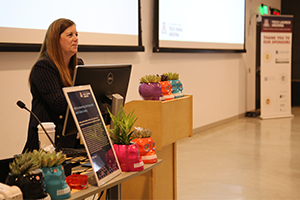 Tech Parks Arizona Vice President Carol Stewart.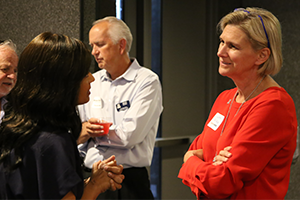 TLA Director of Licensing Rakhi Gibbons and UA Senior Vice President for Academic Affairs and Provost Leisl Folks.
Photos: Paul Tumarkin/Tech Launch Arizona.
This was the overarching takeaway from the October 1 Flourish HERE Women in STEM event held at the University of Arizona. Hosted by Tech Launch Arizona, the technology commercialization arm of the University of Arizona, the goals of the event were to engage women and allies in STEM fields (Science, Technology, Engineering and Math) and the work of creating impact through invention and commercialization.
UA Provost Liesl Folks, who has a background in STEM, was in attendance. Having spent part of her career in industry, instinct told her that inclusion of women in STEM fields was growing, so it was "quite shocking" when she returned to academia to find the change had slowed, and in some disciplines, even reversed course. She issued a call to action to women to venture into the STEM disciplines – and for everyone to encourage that engagement.Held at the Environmental Sciences Building at the University of Arizona, the event featured breakout sessions, an un-conference-style panel discussion, and a networking mixer featuring information tables from local groups.
"Women have as many great ideas as their male colleagues, so we're leaving talent on the bench by not having equal representation," she said. "We're not developing the best possible technologies when we're not including all sorts of people at the table to design those technologies."
Carol Stewart, associate vice president of Tech Parks Arizona, kicked off the afternoon with a short keynote encouraging attendees to approach the world with, in her words, "all the confidence of a 4-year old in a Batman t-shirt."
While the event was focused on women, everyone was invited and encouraged to participate. Steven Goetting attended because he wants to be involved in the ecosystem of startups in Tucson. Specifically, he wants to see more women involved in the community starting up new businesses, and he saw Flourish HERE as a good launching point.
Panelist Sergio Avila from the Sierra Club was invited to participate as an ally – a person who advocates for or supports marginalized people or communities – sharing ideas on "supporting women in STEM, in higher education, and in general." Other panelists included Rakhi Gibbons and Bruce Burgess from Tech Launch Arizona, Eric Smith from the University of Arizona Center for Innovation, and newly-announced President of El Tour de Tucson, Charlene Grabowski.
In discussing the genesis of the event, Aileen Dingus, Coordinator for Venture Development and I-Corps Site Program Manager at Tech Launch Arizona, said, "Flourish HERE came about because we realized that we had great women inventors and mentors involved with TLA, but the ratio of those women to the men that work with us was unbalanced." She specifically cited TLA's I-Corps program as successful, but also representative of this lack of balance. "Since its inception in January 2017, TLA has served 113 startup teams through the NSF I-Corps Site Program. Each team is given a mentor for the program and of those, only 13 slots were served by women," she said. "In a strategic effort to boost that number, we came up with this idea of an event to bring women mentors from the Tucson area together with women researchers at UA so we can all make it happen for the UA, for Tucson, and for ourselves as well."
The call was clearly heard throughout the event. It takes everyone working together – inventors, I-Corps mentors, startup leaders, advisors and community partners – to find ways to encourage, inspire and engage more women to pursue STEM related research and commercialization efforts.
Are you interested in finding out how you can make a difference? Contact Aileen Dingus at aileend@tla.arizona.edu. 
- written by Aileen Dingus