Unconference Builds Pathways for UArizona Startup Success
Tuesday, November 19, 2019
During the Bridge Builders Unconference, key points of the discussion were recorded in the form of a poster by Phoenix illustrator Taryl Hansen. Photo credit: Tech Launch Arizona
TUCSON, Ariz. – On October 17, Tech Launch Arizona and Startup Tucson hosted a unique event dubbed the "Bridge Builders Unconference" at the Tucson Community Center. Part of the TENWEST Festival, the unconference – a meeting where the attendees create the content on-the-fly as opposed to hearing pre-formulated presentations – was held to develop strategies for a strong regional ecosystem in support of University of Arizona startups.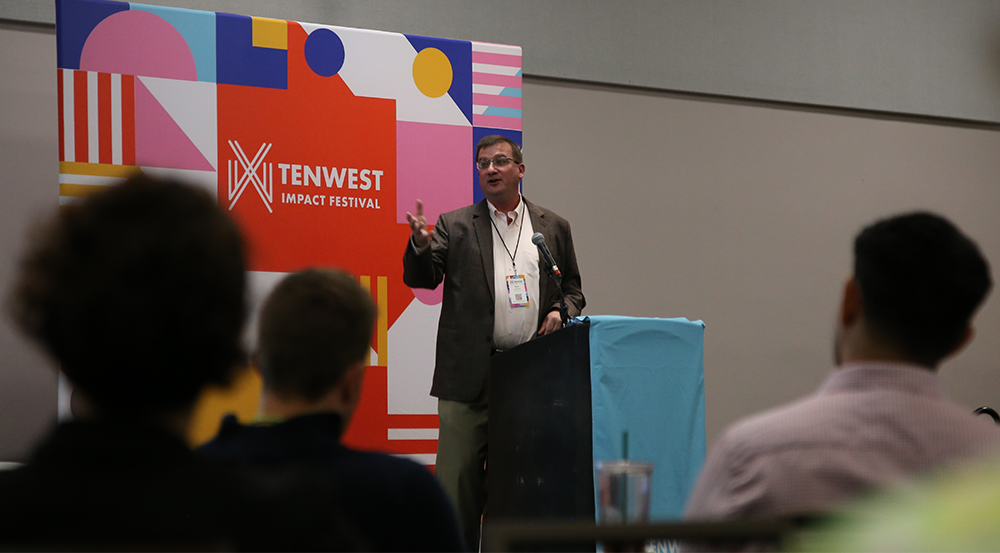 Marc Sedam, Associate Vice Provost for Innovation and New Ventures and Managing Director of UNHInnovation at the University of New Hampshire, delivered the keynote. Photo credit: Alison Mairena/Tech Launch Arizona
Attendees included key representatives from groups essential to building such a strong ecosystem: innovators, incubators and facility managers, mentors, executives, investors and service providers. Together, they focused their conversations around five specific topic areas: innovations and ideas, people and talent, funding and capital, infrastructure and incubation.
According to TLA Commercialization Network Manager Shane Reiser, approximately 100 people from across the startup ecosystem participated.
"We've got investors, people from the university, we've got entrepreneurs, and our goal was to try and understand how we come together and build a more collaborative interconnected startup ecosystem," Reiser said, noting that it is essential for any startup ecosystem to get together regularly with all of the stakeholders, take look at the gaps and strategize on how to fill them. "We want to really grow the future of our community to better help founders and startups grow and ultimately achieve more success, and have that economic impact."
Kickstarting the Conversation
One of the central drivers of the event was TLA Assistant Vice President Doug Hockstad, who oversees technology commercialization at UArizona. He noted how making this event an unconference as opposed to a normal conference was essential to the UArizona ecosystem building strategy.
"At a regular conference you usually have someone up in front essentially giving content to the crowd, and they're just there to absorb it and listen," he said. "For an unconference, the crowd is the group that's creating the content. For this unconference, attendees worked around the room, addressing different topics in the ecosystem."
Ultimately, the goal was to collect information that would normally be difficult to acquire and have the group synthesize it into meaningful answers and solutions on the spot. At the end of the event, facilitators then take the content that the group has developed and present it back to the audience for a concluding discussion.
"The plan is at the end of all this to have another follow-up meeting in November and we're going to continue it throughout the year, focusing on different things we can do to keep this conversation going," said Hockstad.
Joann MacMaster, TLA Director of Venture Development, felt similarly about the success of the day and the foundation for impact that it has created: "Across Tucson I see a lot of campfires. Today was a really great opportunity to bring all of those people together to have kind of a bonfire of conversations… We're really looking for positive actionable steps. What can we do next that can really make a difference and a significant impact for Southern Arizona?"
Within each of the five thematic areas, participants brainstormed detailed lists of challenges and opportunities. While the discussion brought to light challenges such as scarcity of and access to resources and a lack of experience amongst entrepreneurs, it also brought forth opportunities, such as the growing strength and cohesiveness of the regional innovation network, the increasing availability of investment capital, and a heightened awareness of the power that diversity adds to the ecosystem – all elements captured in a unique illustration created in real-time during the unconference.
As centerpiece of the event, TLA and Startup Tucson brought in graphic recorder Taryl Hanson of Frame the Message Ink. Throughout the morning, Hansen listened as the discussion developed, and simultaneously translated it into an illustration. TLA has made that illustration available as a free full-resolution file for anyone to use. 
"To maximize the impact of the event, we wanted one of the outcomes to be an engaging visual representation of the ecosystem to serve as a touchstone going forward that could be displayed as a conversation starter," said TLA Senior Manager of Marketing and Communications Paul Tumarkin. "Now that we have it, we're freely distributing it to help guide and focus talks as we move forward so we build an ecosystem that's efficient, effective, and impact-focused."
According to Tumarkin, the hope is that people across the ecosystem will download the image, print it and put it on the walls and bulletin boards in their spaces, helping ensure that all organizations "are rowing in the same direction," he said. "We're back to that old saying, that a rising tide lifts all boats. That's what we're working toward here as an entrepreneurial community."