Startup Sees Future for UArizona Breakthrough Heart Imaging Technology
Thursday, November 14, 2019
Alexander Alvarez and Sonia Vohnout demonstrate the acoustoelectric cardiac imaging invention. Photo credit: Eddie San Juan/Tech Launch Arizona
Tucson, Arizona - University of Arizona Professor of Medical Imaging, Optical Sciences, and Biomedical Engineering, Russell Witte, Ph.D., has developed a medical imaging technique known as Acoustoelectric Cardiac Imaging (ACI). The patented technology provides breakthrough improvements over current cardiac imaging technologies like electroanatomical mapping (EAM), fluoroscopy, and echocardiography. EAM provides low-resolution images that make it difficult to pinpoint the exact location of arrhythmias. ACI externally emits ultrasound waves that interreact with the heart's electrical currents to produce a map of electrical activity. This noninvasive imaging technique allows physicians to acquire precise, real-time data before, during, and after a cardiac ablation procedure to destroy tissue causing abnormal heart rhythms.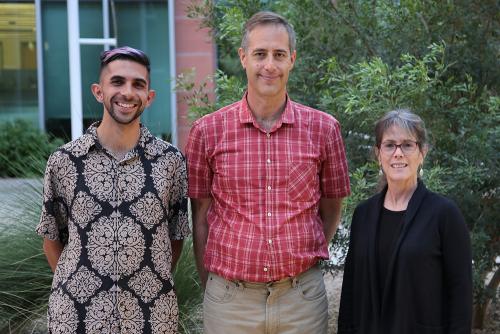 Alexander Alvarez, Russell Witte, and Sonia Vohnout. Alvarez is an MD, PhD candidate, and researcher who helped develop the technology. Photo credit: Eddie San Juan/Tech Launch Arizona.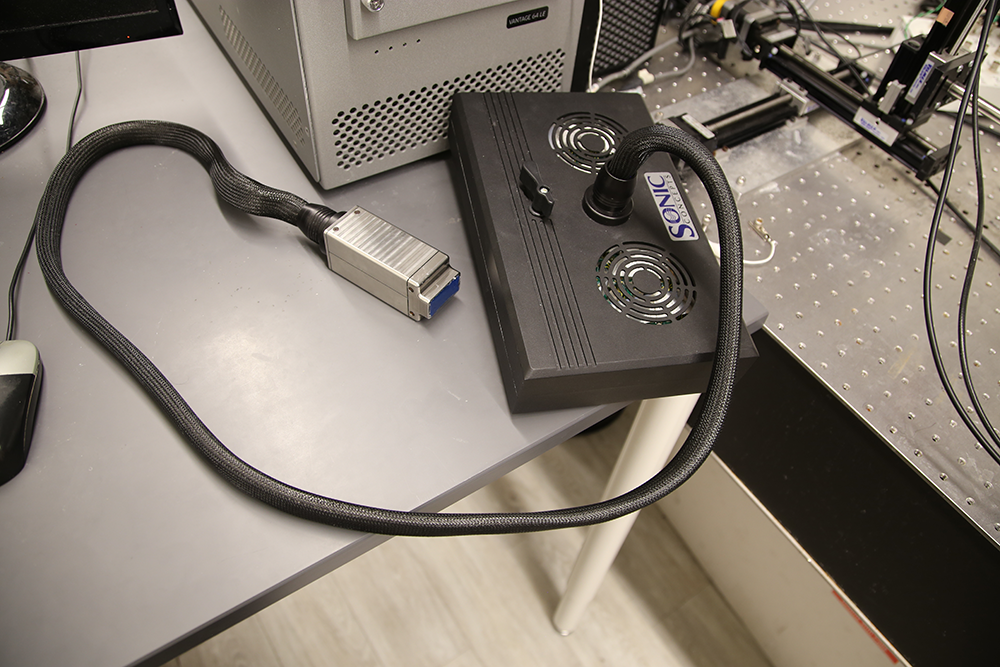 A lab prototype of the acoustoelectric imaging device. Photo credit: Eddie San Juan/Tech Launch Arizon
Witte has affiliations across the UArizona community, including the College of Medicine - Tucson, the Sarver Heart Center and the BIO5 Institute. 
Beyond cardiac applications, the ability of acoustoelectric imaging to map electrical systems in the body makes this technology applicable to nearly all bodily functions that rely on electrical signals.
With the help of Tech Launch Arizona (TLA), the UA office that commercializes inventions developed through university research, Dr. Witte and his co-founder Sonia Vohnout have successfully launched startup ElectroSonix to bring the invention to the marketplace, bringing with them decades of academic and industry experience.
Over 4 million people in the U.S. suffer from cardiac arrhythmias and over 1000 die each year. Current conventional methods are labor-intensive, error-prone, and often ineffective for identifying arrhythmias. These limitations increase the chances of complications and the need for subsequent procedures. With over 500,000 cardiac ablations performed each year and a market forecasted to reach $4.5 billion by 2020, the demand for safer and more accurate procedures continues to grow.
As chief operations officer at ElectroSonix, Vohnout oversees business development, fundraising and the company's operations. She received her MS in systems engineering from UArizona and brings over 20 years of experience in entrepreneurship, business development, systems engineering and project management.
"I was always interested in the work TLA was doing and maintained close contact with Eric Smith," she said, "who knew that I was searching for a technology company whose product I had a passion for and could work with."
Smith, now the executive director of the University of Arizona Center for Innovation at Tech Parks Arizona, is the former TLA commercialization network manager who connected Vohnout and Witte.
"He knew my areas of interest and also knew that my husband had heart issues, so this invention was one I would have a personal connection to."
As chief science officer, Witte oversees the development and implementation of innovations and intellectual property at ElectroSonix. He received a B.S. in physics at UArizona and a Ph.D. in bioengineering from Arizona State University with a focus on neural engineering.
"One of the things that we learned was that in order to look at the brain electrically at a resolution on a scale of millimeters and milliseconds, you needed to use invasive tools," he says.
Yet through his education and now his research, Witte pursued the idea of using ultrasound as a way to map the electrical signals in the brain accurately without the need for such invasive techniques. As his research has developed, Witte has observed that this technology can be applied to nearly all parts of the body relying on electrical signals, including the heart. He later pivoted his research and began using ultrasound imaging in cardiac applications.
In 2013, Witte decided to engage with TLA to maximize the impact of his work by bringing the new heart imaging technique to market.
"There was a limit to what I could do in the lab to commercialize what we were working on, so I reached out to TLA."
Some of the services the UArizona office provided for the newly formed startup included patent prosecution and licensing, market research, financial analysis, pitch deck preparations, and funding for invention development through its Asset Development program. Witte and Vohnout also took part in the TLA-hosted customer discovery program, I-Corps. 
Dr. Witte mentions that the Asset Development funding TLA provided was "absolutely critical because it allowed us to set up our in vivo animal model, but we were also able to get a custom ultrasound array that we are now just starting to use."
Asset Development support is often critical for startups because it acts as a financial springboard to advance early-stage inventions towards readiness for licensing.
Part of the TLA process is to connect startups with industry mentors and licensing specialists. Marie Wesselhoft, TLA mentor-in-residence with over 35 years of health care business experience in the diagnostic, device, and health care provider industry, has coached the ElectroSonix team throughout the process, and she and TLA Senior Licensing Manager Kaitlyn Norman-Powers, Ph.D., have worked closely with Witte and Vohnout on protecting the intellectual property and business strategy development.
Although the company's current focus is cardiac imaging, both Witte and Vohnout say that they will likely consider using this technology to explore other opportunities in the future. ElectroSonix has licensed the UArizona patents for acoustoelectric imaging for the heart and brain. The team continues to reach important milestones, including receiving an SBIR grant from the National Institute of Health that is allowing them to further develop their technology. Last year, they participated in several Arizona and California pitch competitions to increase community awareness and prepare for fundraising. Most recently ElectroSonix became a client of the University of Arizona Center for Innovation.  
- written by Eddie San Juan, Tech Launch Arizona