Startup Licenses UA-invented Mining Sensor Network
Mine workers wait for blasting to finish in the student-run UA San Xavier Mine near Tucson, Arizona. Photo: Pete Brown/College of Engineering
New Company Brings the Internet of Things to Mine Safety and Operations
Tucson, Ariz. – University of Arizona startup GUIA has licensed a mining communication and sensor platform developed by faculty in the UA's College of Engineering and Lowell Institute for Mineral Resources. While the team's initial focus for this "internet of things" system is mining, the company is looking to apply the technology to a number of other environments.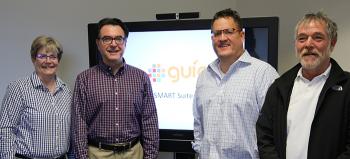 From left: Mary Poulton, Moe Momayez, Lanny Brown and Mark Baker. Photo credit: Paul Tumarkin/Tech Launch Arizona
Pronounced "GI-a," the company name comes from the Spanish word for "guide."
The inventing team includes Moe Momayez, Ph.D., UA associate professor of mining and geological engineering; co-founder Mary Poulton, Distinguished Professor Emerita of mining and geological engineering, and co-chairman of the board of directors of the Lowell Institute for Mineral Resources; and Oro Valley technology entrepreneur Sergio Cardona.
The team worked with Tech Launch Arizona, the office of the University of Arizona that commercializes inventions stemming from research, to define and patent the invention, identify and build the startup team, and license the technology. Through its Asset Development Program, TLA also provided funding to prepare the early-stage invention for the marketplace.
Known as the SMART Suite 5.0, the technology features sensors that can detect and report on components of worker health and safety, mine air quality, geolocation asset tracking, communication and ground stabilization detection. SMART stands for System for Managing Advanced Response Technology (SMART) and is designed for mine-wide distributed sensing, monitoring and real-time communication across all mining operations. At the core of the system is the ability to sense a miner's location and body temperature, predict potential problems, and recommend steps to avert health risks.
According to the US Department of Labor Mine Safety and Health Administration, there were 430 deaths due to mining incidents between 2007 and 2017. SMART Suite 5.0 is the first unified, comprehensive, internet of things platform technology to integrate mine safety, miner health monitoring, and asset tracking.
According to Momayez, the total direct and indirect cost of a single work site accident in the mining and construction industries can be devastating, with a possible economic impact of over $5 million per incident. This comprises expenses such as basic financial costs, human costs (including rehabilitation, death benefits, bodily injury indemnities and income replacement), and a significant – potentially crippling – loss of productivity.
"GUIA is the only company on the market addressing this serious issue by offering a single, integrated technology," he said. "SMART Suite is at the vanguard of today's available technologies to monitor mine environment, worker health, reduce operational risk and improve safety."
Want to hear more about GUIA?
If you are a UA faculty member, researcher, graduate student or staff, you're invited to join TLA to hear from the GUIA team on 1/31. Get details and RSVP. >
Tucson entrepreneur and TLA commercialization partner Mark Baker and Phoenix semiconductor veteran Lanny M. Brown have also joined the team as senior advisers.
"It was a wonderful experience to work with the GUIA team as a mentor during TLAs I-Corp program, and subsequently to help them leverage the opportunity TLA provided to advance their concept beyond the lab and into the market," said Baker. His multiple decades of experience as a successful entrepreneur are helping GUIA to move forward quickly and minimize errors typically encountered in the process of commercialization.
"This technology will be useful any place where the environment or location can impact employee health and safety, such as for first responders or industrial manufacturing situations," said TLA senior licensing manager Bob Sleeper, who led the commercialization project. "Future improvements in communications architecture will allow for a coarse mesh of sensors and communication devices spread out over many miles."
TLA mentor-in-residence Kevin McLaughlin served as an adviser to the team throughout the process.
"It's been a pleasure working with the GUIA team on their application of internet of things technology," McLaughlin said. "They have developed a system that will positively impact the lives of people working in dangerous environments around the world."
- written by Paul Tumarkin