Startup Licenses UA-invented Aquatic Animal Growth Assay
Friday, September 21, 2018
Benjamin Renguist, PhD, inventor of the animal growth assay, in his lab at the UA Agricultural Center. Photo: Paul Tumarkin/Tech Launch Arizona
Tucson, Ariz. – At the University of Arizona, Benjamin Renquist, PhD, assistant professor of animal and comparative biomedical sciences at the University of Arizona College of Agriculture & Life Sciences, has invented a new assay that measures the metabolic rate of aquatic animals, from fish to mollusks to crustaceans, to identify those individuals that will grow more quickly. The assay will be used to select brood stock animals – those best for breeding – with a greater genetic potential for growth. 
Tech Launch Arizona (TLA), the office of the UA that commercializes inventions stemming from research, working with inventing team, protected the invention by filing for a patent application and has now licensed it to startup GenetiRate.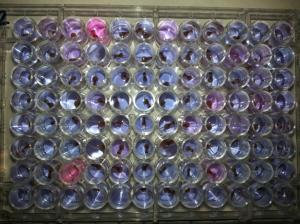 Sixteen hours after the assay is applied, the water color of each well indicates the metabolic rate of the organism in that well, offering a simple visual indicator identifying the individuals that have the highest metabolic rates and will grow most quickly. Photo: Benjamin Renquist.
The invention is elegantly simple:  Individual organisms are placed into each of the "wells" or small tubes of a microplate. An assay buffer containing rezasurin, a colorimetric/fluorescent indicator, is added to each well. This indicator, enters the animal and is converted from a non-fluorescent blue to a fluorescent pink in proportion to the individual's metabolic rate. Individuals that induce a greater change toward pink have a higher metabolic rate than individuals that have a low metabolic rate. Accordingly, the change in color allows for selection of those organisms that have high metabolism and growth rates. Importantly, resazurin is non-toxic, has no lasting effects on the organism, and is no longer visibly present in the organism 30 minutes after exchanging assay buffer with fresh water.
According to Renquist, different species produce results at different rates: oysters take two to six hours, trout or tilapia take 12 to 16 hours. 
"However, in most cases we can start to see signal at three hours," he says.
Along with whole live organisms, the assay can be also applied to tissue samples drawn from skeletal muscle needle biopsies to identify individuals that are more feed efficient. 
"This technology offers a whole new and trustworthy way for selecting top producing stocks," says Tod McCauley, TLA licensing manager for CALS who worked with Renquist throughout the IP protection and licensing process.
The aquaculture industry has long struggled with this challenge; the economics of the industry are highly dependent on animal growth rate and the efficiency with which they convert feed into protein. This test offers fast, easy-to-interpret indicators that allow for selection of brood stock at the embryo stage rather than at adulthood. Current brood stock selection relies on identifying those animals that grow most quickly. However, in group housed aquatic species this results in selection of fish that consume the most feed, not necessarily fish that are genetically superior for growth. This assay solves this problem for aquaculture producers by allowing for selection for one of the primary traits that influences profitability. 
To help develop the company's startup strategy, TLA's Assistant Director of Venture Development Bruce Burgess, an experienced life sciences entrepreneur, advised the team.
"Alternative selection methods typically focus on only one characteristic to the detriment of other important factors," Burgess says. "The GenetiRate approach optimizes both growth and feed efficiency in their selection process."
The team's participation in TLA's NSF I-Corps program helped them better understand their target market and potential customer base. In addition, this experience allowed the startup team to develop a business model that would transform the invention into a saleable product. 
Coming out of those processes and with help from TLA, the company has already gained its first customer: Hawaiian Shellfish, a subsidiary of GoosePointe Oysters.
"Bruce and Tod have been by my side throughout this process and are trusted advisors without whom this would not be possible," says Renquist. "I've also had the pleasure of learning from the entire TLA team as we've worked through the challenges of starting this venture. Any success at GenetiRate will be the result of the foundation and support provided by everyone at TLA."