Startup Licenses Nanomaterials for High-Resolution Understanding of Disease Biology
Co-inventor Colleen Janczak, Ph.D., uses a fluorescent light to illuminate the new nanomaterials. Photo: Paul Tumarkin/Tech Launch Arizona
TUCSON, Ariz. – To be able to treat disease, researchers must first be able to understand its workings. Given the chemical and biological complexities of disease – and life in general – this is a tall order. The development of personalized medicine will depend heavily on increased, highly detailed levels of understanding of processes that are inherently difficult to measure.
For over seven decades, researchers have been using radioisotope labeling as a method for studying biochemistry and cell biology. Through this technique scientists are able to replace atoms in chemical compounds with radioactive alternatives, allowing them to trace their progress through chemical reactions without affecting the outcome. The technology has found countless applications, from helping to discover the mechanisms of metabolism to radioactive dating to imaging the organs of the body to diagnosing and treating disease.
While these detection methods are very sensitive, the results lack the resolution and timing needed to capture the biological complexity necessary for a deep understanding of the processes.
Imagine trying to understand a movie by looking at a series of low-resolution still photographs: the information is unable to convey the whole picture. To better understand biological processes, new methods for returning high-resolution data from detection of these radioisotopes are critically needed.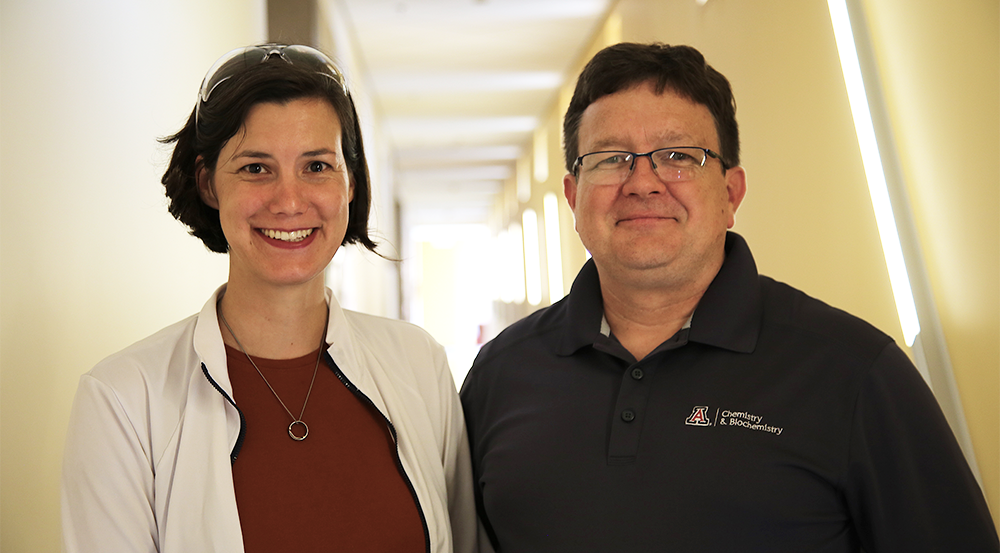 Colleen Janczak and Craig Aspinwall. Photo: Paul Tumarkin/Tech Launch Arizona
To address the challenge, researchers at the University of Arizona have developed new materials for detecting radioisotopes that provide faster and higher resolution results than today's generally accepted methods. These new materials were developed by Craig Aspinwall, Ph.D., and Colleen Janczak, Ph.D. Aspinwall is a professor in the Department of Chemistry and Biochemistry and the Department of Biomedical Engineering, and a member of the UA BIO5 Institute and the UA Cancer Center and Sarver Heart Center at the College of Medicine – Tucson. Janczak is a research scientist in the department. 
The new technology provides previously unseen temporal and spatial resolution in radioisotope detection, and offers a more environmentally sound alternative by reducing overall hazardous chemical usage and waste associated with previous radioisotope detection methods. Development of these materials began with NIH and NSF funded research projects in the Aspinwall lab.  Upon realizing that these materials could provide several key advantages over the current state-of-the-art in radioisotope detection, Aspinwall and Janczak began to explore commercialization options.
Working through Tech Launch Arizona, the office of the UA that commercializes inventions stemming from research, the two have started a company – Scintillation Nanotechnologies, LLC – and licensed the technology from the UA. The company's focus is the development and manufacture of composite nanomaterials for detecting radioisotopes in biochemical research and drug discovery applications. Janczak serves as the chief operations officer and Aspinwall as the chief science officer.
TLA Senior Licensing Manager Laura Silva and Mentor-in-Residence Marie Wesselhoft worked closely with Aspinwall and Janczak on protecting the intellectual property, as well as helping them develop their business strategy.
"Working with the team from TLA helped us move from an isolated research project to thinking much bigger," said Aspinwall. "With Laura moving the technology and patent work forward, and Marie sharing her expansive expertise, we were able to quickly put our fears to rest and focus on moving the company forward." 
The team took advantage of two key services the office offers UA startups. First, they took part in TLA's NSF I-Corps program, a six-week hands-on course for academic entrepreneurs that teaches lean startup methods and customer discovery. Both Aspinwall and Janczak highlight the importance of the I-Corps program, saying that it "helped us transition from thinking of research projects and descriptions to focusing on how to communicate with potential customers."
Aspinwall said, "the ability to work with a mentor with commercial expertise and a broad view of the process, significantly advanced our understanding of the commercialization landscape." Following the I-Corps program, the inventors continued working with their I-Corps mentor and a mentoring team  supported by TLA to develop a business plan to position Scintillation Nanotechnologies LLC to license the invention.
Working with mentor Ayaz Malek of F. Hoffman La-Roche, the program helped them connect with key collaborators and an ad hoc advisory group that helped the company formulate a business plan.
Janczak and Aspinwall also took advantage of TLA's Asset Development funds, a program that provides funding to UA inventors for development of the technology beyond basic research and move it closer to readiness for licensing either into a startup or an existing company.
Today, Scintillation Nanotechnologies, LLC, has four products available that it formulates for direct sales to customers, and they continue to develop new technologies based on customer demand.
"TLA's programs are designed to advance technologies and teams to create benefit for the public, " said Assistant Vice President Doug Hockstad. "It's gratifying to have another team take advantage of these programs, and we look forward to a great ongoing relationship with Craig and Colleen to continue to maximize the impact of their work." 
The company was one of eleven startups started to commercialize University of Arizona inventions in fiscal year 2019, bringing the total number of companies started since the inception of Tech Launch Arizona in 2013 to over 80.